According to the international Condé Nast Traveler, the Stanglwirt is one of the best hotels in the world
Gold from Condé Nast Traveler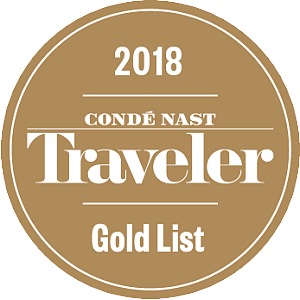 "Condé Nast" is one of the most exclusive media companies in the world.

The US publishing empire is home to industry leaders such as Vogue, Vanity Fair, Glamour and GQ. Among many other products, "Condé Nast" also publishes a travel magazine: the Condé Nast Traveler - often described as the international bible for all travellers.

The Condé Nast Traveler includes, in addition to a list of outstanding holiday resorts, the so-called "Gold List": a list of the 142 best hotels in the world, across six continents and 47 countries.

The Stanglwirt features in the current "Gold List" - the first and only Austrian hotel ever to have been listed. "We are overwhelmed by this great award and are absolutely delighted," said a jubilant Balthasar Hauser with all the family.
No wonder: we are mentioned in the same breath as world-famous hotels such as the Taj Mahal Palace in Mumbai, the Mandarin Oriental in Hong Kong and the Halekulani in Honolulu.

The listed hotels are specially selected according to criteria relating to quality and individuality. For Condé Nast Traveler, a hotel is not simply a place to spend the night. It is all about attention to detail, the dedication of the hotel owner and their staff and, above all, the unique features of the hotel.

In that respect, our Stanglwirt scored particularly highly in the international travel magazine in the "Spa and Wellness" category, with our unique features like the natural Kaiserwasser water from the hotel's own spring, the landscaped roofs with sheep grazing on them, the remarkable close-to-nature architecture and, not least, the 400 years of tradition and the homely family atmosphere.

"At heart, we are a big organic farm with a luxury hotel," says Stanglwirt host Balthasar Hauser and, for the Condé Nast Traveler, this combination of contrasts was one of the special features of our hotel.

"We are really deeply moved by this tremendous mark of recognition which gives us incredible pleasure. Above all, our family would like to thank our staff who have made such a huge contribution to this prestigious award, and our many loyal guests who are so dear to our hearts and for whom we are glad to do our very best every single day," said Maria Hauser-Lederer, junior director and head of the hotel's marketing and PR operations, who was keen to give praise where praise was due.
You may find this also interesting