Our energy supplier
Biomass power plant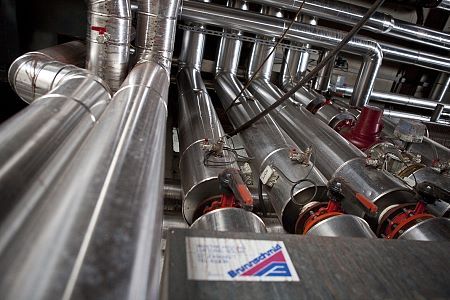 We can warmly recommend a stay at our Green Spa Resort. You will certainly enjoy highly environmentally friendly and wholesome warmth and hot water from our very own biomass power plant. This was, by the way, Europe's first hotel biomass heating plant and it has been supplying the whole Stanglwirt complex with wonderful warmth since 1980.

As the Stanglwirt expanded, the power plant was also doubled in size in 1995 and now has an impressive thermal output of 1 million kW - the equivalent of 1,600,000 kcal. At peak times it requires between 35 and 40 m³ of natural heating material, which arrives in the form of bark waste from local sawmills.
Warm and low in harmful substances
The combustion performance of the biomass power plant is also very environmentally friendly. At its peak, the temperature in the combustion chamber reaches 800 to 1000°C. Thanks to this tremendous heat, the waste gases generated during combustion are particularly low in harmful substances and most of what escapes through the chimney is just steam.
You may find this also interesting