A big adventure for the little ones
Children's water world
Obviously, there's a lot of splashing around in the children's water world. But round lines also play a big part in the design of the space, giving this children's swimming paradise – created using all-natural materials – a really harmonious feel. Swimming pools of different depths – ideal for children of all ages – guarantee a safe and fun swimming experience. And there are lots of other highlights to be found in the children's water world.
Do you fancy splashing about while watching a film at the same time? Then you and your children will be delighted with the Stanglwirt children's water world! You can watch a classic children's film straight from the large children's pool, at our special pool cinema. A unique experience for everyone.
First-class slippery fun
Aaand: action!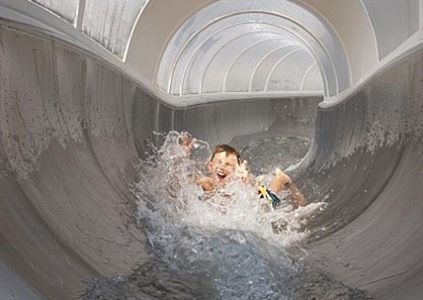 And just next door, wind up for the next adventure! The 12-metre high, 120-metre long giant water slide with timing system offers slippery fun for all children over the age of 8. And quite a few "big" children have been spotted having great fun sliding down, too!

Our slightly younger guests will be quite happy on the 2.5-metre slide. Or in the whirlpool or under the waterfall. We've even thought of the very littlest ones: they can join in the fun in the baby splash pool with its various exciting water features.
You may find this also interesting