Spa enjoyment with an all-round view
The outdoor rock pool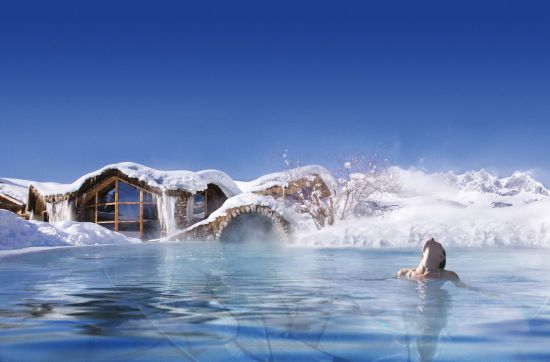 A rocky tunnel takes you from the indoor rock pool to the circular outdoor rock pool. The heated, 32°C pool is the centrepiece of the Kaiserwiese gardens and offers lovely views in all directions. Families and children in particular really appreciate the outdoor spa experience.

The enormous rocks and purest water are just two of the many ingredients that make a visit to the rock spa so unforgettable. There are also islands covered in the lush vegetation that thrives in our region, which invite you to stay a while and relax. The vast windows have an unhampered view of the magnificent Wilder Kaiser and the panorama behind the elaborate vaulted roof ends with the stars in the Tyrolean night sky.
The jewel in the wellness worlds' crown
Rock spa & rock sauna
You can clearly see the "wild" side of the Wilder Kaiser in the rock pool and rock sauna at the Stanglwirt. In the unpolished centrepiece of our wellness worlds, you are lured away along winding paths, through caves and waterfalls, on a real adventure for the senses. Now all our visitors can experience the raw, natural beauty of the Wilder Kaiser up close, down here in the valley.
You may find this also interesting