Award
Stanglwirt wins AMA Gastro Seal of Quality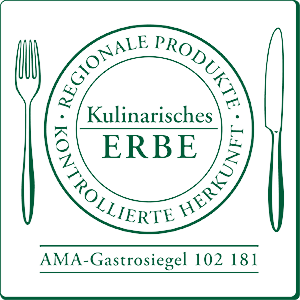 AMA's criteria are stricter than the legal requirements. The quality specifications cover all stages of food production - i.e. from the field and stable through to the retailers. There are defined AMA guidelines for every phase, regulating the stages of manufacture, hygiene, labelling and documentation. The AMA guarantees compliance with the standards by carrying out regular inspections of producers and analysing their products.

The AMA Gastro Seal of Quality is a system for verifying the provenance of agricultural produce. The menu indicates where our meat, dairy produce, eggs, fruit, vegetables, potatoes, game and freshwater fish come from. Furthermore, as an AMA Gastro Seal of Quality organisation, we are committed to freshly preparing all our meals without the use of artificial ingredients or genetically modified foods.

This is checked during regular inspections. Our close partnerships with local farmers, food manufacturers and retailers enable us to offer very special delicacies while supporting the regional economy. The AMA Gastro Seal of Quality puts an anti-globalisation statement on your plate.
You may find this also interesting