A little house for your home
My little Stanglwirt
If you want your personal Stanglwirt dream to be more than just a memory, and instead want to take it home with you, the "My little Stanglwirt" play house is a unique way to playfully shorten the waiting time until your next holiday.

The miniature house has been specifically developed for children and its affectionate design, complete with authentic Stanglwirt ambience, can be ordered directly from the Munich-based children's play house manufacturer "My Cosy Cottage". As a mother herself, Maria Hauser-Lederer knows exactly what children love. Her idea of the "My little Stanglwirt" play house was developed and refined in collaboration with carpenter Johannes Stockinger, a task involving many hours of careful craftsmanship. The impressive result is a beautiful little house, which is distinguished by countless marks of quality.

to take home
A bit of Tyrol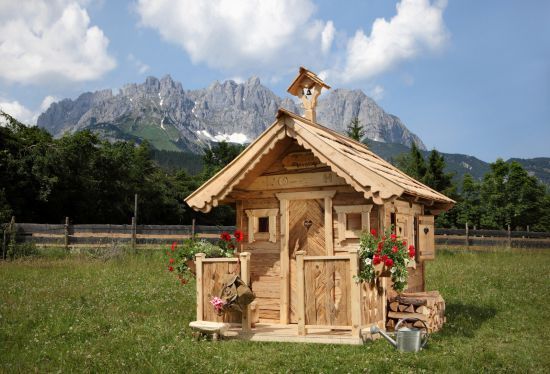 Moving window shutters with little heart cut-outs, checked curtains and tablecloths, window boxes for planting, a hand-made kitchen with a traditional plate rack and a quaint little table with rustic stools.

Everything you would normally only expect to find in a real Tyrolean mountain chalet. Child-sized versions of the distinctive details of a traditional Alpine chalet were specifically made for "My little Stanglwirt" and complemented by hand-planed, Arolla pine accessories.
My little Stanglwirt
The Stanglwirt aroma of well-being
The atmosphere in "My little Stanglwirt" is extremely cosy, just like in the real Stanglwirt, thanks to the therapeutic effect of the high-quality and expertly finished Arolla pine that is used. Brushed wooden planking and a waterproof covering of wooden shingles on the roof are in keeping with the old Tyrolean chalet architecture, but are not just there for decoration. The development of the play house gave top priority to stability, durability and weatherproofing. As well as sustainability, of course. We are really delighted that every "My little Stanglwirt" house is of eco-friendly construction.

Order your personal "My little Stanglwirt" play house now, directly from "My Cosy Cottage". Experienced joiners will be happy to professionally assemble the little house in your garden.
You may find this also interesting